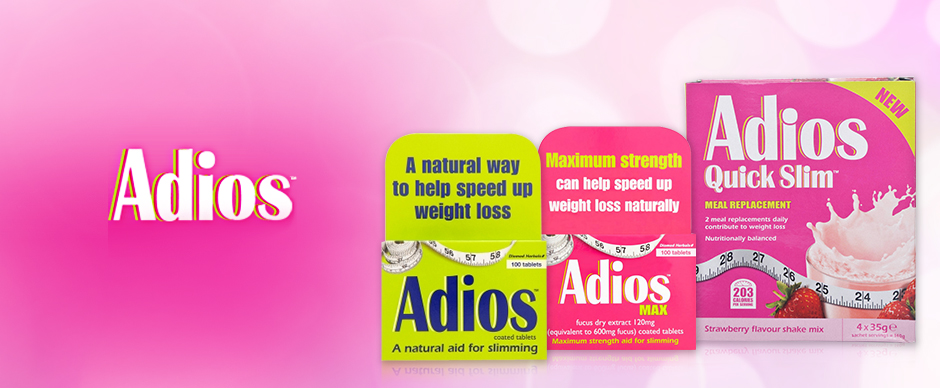 Is there anyone who can't take Adios?
Adios can generally be taken by anyone over the age of 18 who is looking to lose weight effectively and efficiently. There are a few groups of people however who should avoid the use of Adios or who should speak with their GP or healthcare professional if they are considering Adios:
Anyone who is known to be sensitive to any of the ingredients in Adios
Anyone under the age of 18 or the elderly
People taking other medication or dietary supplements containing iodine
Anyone who has been told by their doctor that they have sugar intolerance
People being treated for a long-term or serious health condition
Anyone taking anti-coagulant treatments
Is Adios suitable for pregnant women?
It is not recommended to take Adios if you're pregnant or breastfeeding.
Are there any side effects associated with Adios?
As with any medication, reactions could be possible and rare cases may be sensitive to the ingredients. In order to reduce the risk of an adverse reaction, you should follow the directions carefully and never exceed the recommended dose. The noted side effects that could occur in rare circumstances include stomach cramps, bloating, diarrhoea and nausea. If you notice any of these side effects it is recommended to stop taking the tablets and drink plenty of fluids. If your side effects worsen or you notice a side effect that is not listed in the information leaflet, then stop taking Adios immediately and contact your GP.
Is Adios suitable for vegetarians and vegans?
Adios and Adios Max are both suitable for vegetarians, however neither are suitable for vegans.
Is the butternut ingredient in Adios suitable for those with a nut allergy?
The butternut that is added to Adios is derived from the bark of the butternut tree and not the specific nut. Therefore this particular ingredient should not present any issues or side effects for those with a nut allergy. If you are unsure, please check with your healthcare professional or pharmacist before taking Adios.
Is Adios free from gluten?
Yes, because the starch used in Adios is derived from potatoes rather than cereals, meaning it is gluten-free and suitable for those with gluten intolerance.
Can Adios tablets be taken alongside meal replacement products?
There are no known concerns regarding the use of Adios Slimming Pills alongside meal replacement products like milkshakes, soups or smoothies as part of your calorie controlled diet. If you are concerned, speak with your pharmacist or dietician regarding what you should be eating while taking Adios.
Do I still need to eat healthily and exercise while taking Adios?
Yes! It is important that you only take Adios alongside a calorie controlled diet and exercise regime as this will enable Adios to take effect and you will gain the best results.
What is the different between Adios and Adios Max?
Adios and Adios Max contain exactly the same ingredients, but Adios Max contains a higher dosage.
What is Adios Quick Slim?
Adios Quick Slim is a new delicious and nutritious meal replacement shake in a yummy strawberry flavour. With just 203 calories, it can be taken as a replacement of breakfast, lunch or dinner to help you achieve your weight loss goals a little faster. To get the best results, Adios recommend swapping 2 meals for an Adios Quick Slim Shake alongside an energy-restricted diet. All you need to do is empty the sachet contents into a bottle and add 200ml of cold skimmed milk, shake until fully mixed and enjoy!