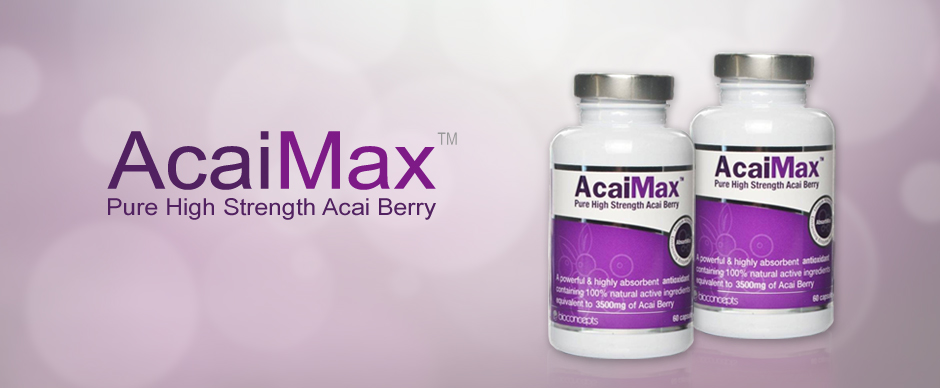 Acai Berry may actually help to aid weight loss and boost metabolism
Acai is found in the Brazilian rainforests growing on the top of the Amazon palm tree. The deep purple pigment hides the incredible antioxidant force which has made it so highly sought after. Acai Berry really is the new Super Food!
Acai Berry is a fantastic supplement designed to enhance weight-loss (as it is said to increase metabolism and energy). "The acai (pronounced ah-sigh-ee) has been dubbed 'botox in a bottle' or 'youthberry' because of its amazing ability for dramatic weight loss" Daily Mail 2010.
It is also said to detoxify and promote a healthy lifestyle. And as Acai contains a combination of healthy fats (monounsaturated), phytosterols and dietary fibre, Acai is also believed to promote cardiovascular and digestive health.
As if that wasn't enough, AcaiMax™ also contains vitamins A, C, E, B1, B2 and B3 along with potassium, calcium magnesium, copper and zinc. This amazing berry is also rich in healthy fats including as the omega 3, 6 & 9!

The Study
A study conducted by a team of Texas AgriLife Research scientists, was published in an issue of the Journal of Agricultural and Food Chemistry in Oct 17th 2008. It was the first research involving people that determined the acai berry did indeed have the ability to be absorbed in the human body when ingested both as juice and pulp. Being able to demonstrate the berry's absorption in humans is vital as it is known to contain numerous antioxidants.
The study used 12 healthy volunteers who ingested a single serving of acai juice or pulp. "Acai is naturally low in sugar, and the flavour is described as a mixture of red wine and chocolate," said lead researcher Dr. Susanne Talcott, "so what more would you want from a fruit?"
Talcott, who also is assistant professor with the Texas A&M University's nutrition and food science department, said that previous studies have shown the ability of the human body to absorb target antioxidants (from other produce), but "no one had really tested to see if acai antioxidants are absorbed in humans."
So, in 2001, researchers wanted to determine whether the antioxidants from acai berries were in fact being absorbed into the human body or simply being removed as unused waste as Steve Talcott explained: "Like vitamin C, the body can only absorb so much at a time."
For the clinical study, those involved were asked to consume acai pulp and acai juice containing half the concentration of anthocyanins as the pulp and each compared to the control foods: applesauce and a non-antioxidant beverage.
Dr. Susanne Talcott explained: "Blood and urine samples taken at both 12 and 24 hours after ingestion demonstrated substantial increases in antioxidant activity in the blood after both the acai pulp and applesauce consumption. Both acai pulp and acai juice showed significant absorption of antioxidant anthocyanins into the blood and antioxidant effects." ScienceDaily (Oct. 17, 2008)