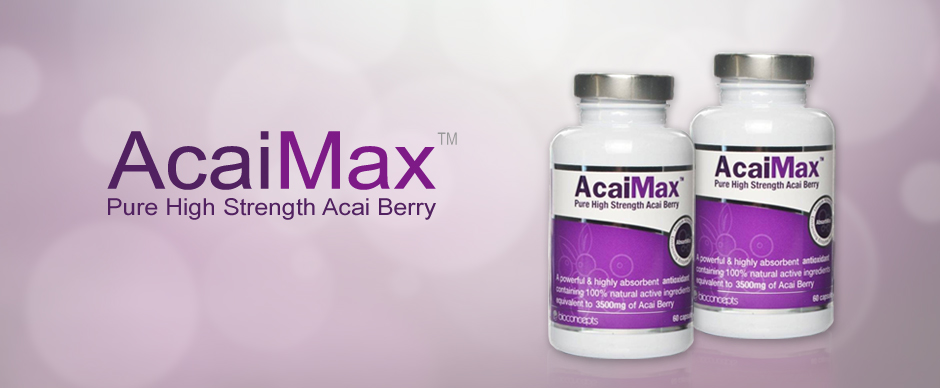 What is AcaiMax™?
AcaiMax™ is a daily supplement that delivers high levels of antioxidants to your body that help to increase metabolism, thereby aiding weight-loss and increase your energy levels. It is also said to detoxify and promote a healthy lifestyle. And as Acai contains a combination of healthy fats (monounsaturated), phytosterols and dietary fibre, Acai is also believed to promote cardiovascular and digestive health.
AcaiMax™ also contains vitamins A, C, E, B1, B2 and B3 along with potassium, calcium magnesium, copper and zinc. This amazing berry is also rich in healthy fats including as the omega 3, 6 & 9!

How does AcaiMax™ work?
As an aid to weight-loss, AcaiMax™ contains amino acids and essential fatty acids, Omega 3 & 6 that collectively aid in the natural metabolism of human beings. These fatty acids help increase the metabolic rate to swiftly burn the calories from food you consume. Amino acids and fatty acids are particularly beneficial as the body's energy and metabolism booster.

How do I take AcaiMax™?
For best results follow the recommended dosage in the instruction table on the enclosed leaflet.

What does AcaiMax™ contain?
AcaiMax™ Contains 100% pure Acai Berry. Acai is found in the Brazilian rainforests growing on the top of the Amazon palm tree. The deep purple pigment hides the incredible antioxidant force which has made it so highly sought after. Acai Berry really is the new Super Food!

Who is AcaiMax™ for?
AcaiMax™ is for anyone who wishes to benefit from the well-documented health advantages of the Acai berry including:
Metabolism boost
Aid to weight-loss
Increased energy levels
Supported heart health
Supported digestive health

How do I take AcaiMax™?
For best results, follow the recommended dosage on the enclosed leaflet.

Can I take AcaiMax™ alongside medication or if I have an existing medical complaint?
It is recommended you consult your healthcare professional before taking AcaiMax™.