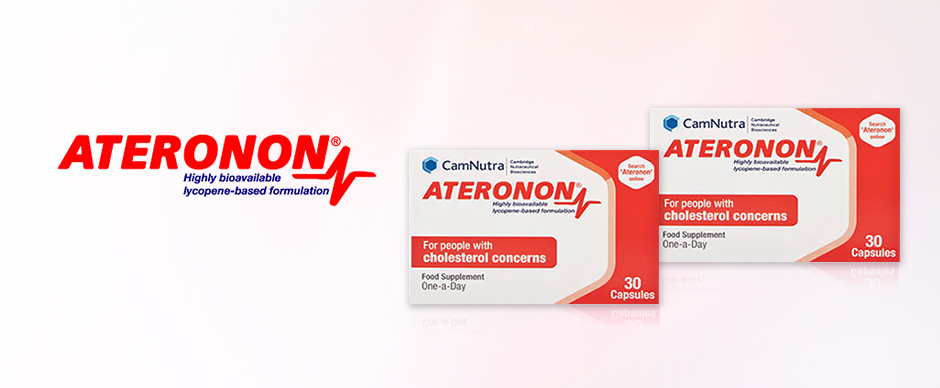 A Brief History of Ateronon
Developed by Cambridge scientists, with funding from the British Heart Foundation, Ateronon™ is a natural lycopene supplement derived from tomatoes. The supplement is the only one to contain LactoLycopene™, a unique patented formulation proven to increase lycopene levels in the blood. Ateronon is a one-a-day supplement containing a lycopene-whey complex (LactoLycopene).
Lycopene is widely believed to be a key contributor to the health boosting properties of the Mediterranean diet. However, lycopene has a crystalline structure which is difficult for the body to absorb. In the Mediterranean, tomatoes are cooked in olive oil which breaks the lycopene crystals down making them bioavailable (easily absorbed). But eating enough cooked tomatoes in this way on a daily basis is not always possible. Ateronon capsules provide the same bioavailable content equivalent to consuming 1kg (2.2lbs) of cooked tomatoes. Each capsule contains 350mg of LactoLycopene, providing 7mg of lycopene.
The health-giving properties of Ateronon, combined with easy absorption, have been achieved by combining lycopene with whey protein, to form the company's patented ingredient, LactoLycopene™. There is extensive published scientific data for both lycopene and whey protein.
Studies suggest lycopene consumption is protective against certain cancers including prostate cancer, cardiovascular disease and the brittle-bone condition osteoporosis. Tomatoes are also recommended for good skin health, lowering blood pressure and to improve fertility. Lycopene consumption may also help people with high cholesterol as some studies suggest it reduces the level of 'bad' cholesterol in the blood.
Whey is a naturally complete protein, which means it contains all the essential amino acids required in the daily diet. It has the ideal combination of amino acids to help improve body composition and boost athletic performance. Moreover, whey protein is easy to digest and is often referred to as a "fast" protein for its ability to provide rapid nourishment to muscles.
Ateronon is produced by CamNutra, a UK based company with a mission to protect people against chronic health conditions using natural healthcare products with clinically-proven benefits. CamNutra's in-house scientists and clinicians manage an on-going programme of clinical trials to demonstrate the potential multiple health benefits of taking Ateronon. Research into Ateronon has been undertaken at Cambridge University, followed up in a multi-million dollar study by Harvard Medical School, USA.
A 2012 Cambridge University study lead by Joseph Cheriyan, a clinical pharmacologist at Addenbrooke's Hospital, Cambridge, has shown taking Ateronon daily, increased the flexibility of arteries by up to 53% in people diagnosed with heart disease.
A 2012 Finnish Study that monitored the health of more than 1000 men for more than 12 years, found those with the highest blood lycopene levels were almost 60% less likely to suffer a stroke than those with the lowest levels. A study at Brigham & Women's Hospital Harvard is set to report in early 2014. No other lycopene product has been subjected to such rigorous independent clinical studies. Ateronon has generated much media interest and is often dubbed 'The Tomato Pill'.