Shop by Brand
Browse by Category
Virus and Infection Control
Refine by Brand
Browse our list of questions and answers, or ask your own health question.
View questions »
Submit a question »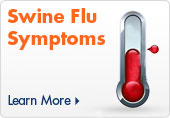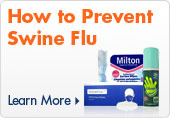 Why Chemist Direct
UK's Number 1

Online Pharmacy

FREE

Fast Delivery

Express

Delivery

Confidential

& Discreet

Regulated

& Approved Pharmacy

Secure

Shopping

Run by

UK Pharmacists

Genuine UK

Sourced Medication

UK Based

Call Centre
Top Sellers
Virus and Infection Control
- Updated hourly
Swine Flu
In the last few years, there has been a lot of hype surrounding various new flu types that have entered the picture. It is important to know the symptoms of these flu types so that you can properly prevent them, or cure them. When you are familiar with What Is Swine Flu then you are able to properly treat it or, better yet, avoid it all together. Following is information on What Is Swine Flu and how you can recognize the symptoms and prevent it from happening to you.
Swine flu is the common name given to a relatively new strain of influenza (flu) that caused a flu pandemic in 2009-2010. As Swine flu is a new virus it means that everyone is at risk, as most of use will not have immunity against the virus.
Symptoms Of Swine Flu

The symptoms are generally the same as that of a regular flu, although they are likely to be more severe. These symptoms include fever, fatigue, lack of appetite, coughing and sore throat. Some people with swine flu have also reported vomiting and diarrhoea. Individuals returning from affected areas who become unwell within seven days of their return are advised to stay at home and contact their GP or NHS Direct for further advice.
Testing has shown that the human swine influenza H1N1 virus can be treated with antiviral drugs.
It is important that as swine flu spreads, you learn symptoms of the disease so you can recognise it in yourself and others early. Please consider your symptoms carefully before using the National Pandemic Flu Service mentioned below.
So far, the vast majority of swine flu cases have been mild, with symptoms similar to those of seasonal flu. Only a small number of people have had more serious symptoms. If you or a member of your family has any of the following symptoms and a temperature of 38°C and above, you may have swine flu.
The Typical Symtoms
- A sudden fever (a high body temperature of 38°C/100.4°F or above)
- A sudden cough
Other symptoms may include:

- Headache
- Tiredness
- Chills
- Aching muscles
- Limb or Joint Pain
- Diarrhoea or Stomach Upsets
- Sore Throat
- Runny Nose
- Sneezing
- Loss of Appetite
Prevention
Swine flu prevention follows the same methods of that of a regular flu which includes covering your mouth when you sneeze or cough with a tissue, disposing of it immediately, then washing your hands. Thoroughly washing your hands if you have been in a public place is also advised. Carrying a disinfectant hand rub with you when you are out is a good idea in case you are unable to access facilities. Wiping door handles, phones and hard surfaces down with a sanitiser is also recommended. To visit the Chemist Direct Swine Flu Prevention Section, click here HERE.
The National Pandemic Flu Service
This service is for patients in England who may have swine flu. This service will assess the patient's symptoms and, if required, provide an authorisation number, which can be used to collect antivirals from a local Antiviral Collection Point.
This service is only for people with high temperature and other symptoms which are likely to be caused by swine flu. You can get more information about flu symptoms from www.nhs.uk and the Swine Flu Information Line on 0800 1 513 513.
If you have severe symptoms which are not like flu you should contact your GP or call NHS Direct on 0845 4647 in England, NHS 24 on 08454 24 24 24 in Scotland or NHS Direct Wales on 0845 4647.
To use this service you will need the following information about the patient:
Their date of birth
Their current symptoms,
Their history of any serious medical conditions
Their home address including postcode
You will also need a pen and paper to write down information the service give you.
If you do not have all of these, please go and get them before carrying on with the service.
To use the service click the link below:
https://www.pandemicflu.direct.gov.uk/
Useful Links

Please find useful links of information below with up to date information on the spread of swine flu as well as a symptom checker.
NHS Swine Flu Information & Symptoms Checker
http://www.nhs.uk/Conditions/Pandemic-flu/Pages/Introduction.aspx
Directgov Swine Flu Information
http://www.direct.gov.uk/en/Swineflu/DG_177831

Featured Virus and Infection Control Products
Hand Sanitisers

100ml
97p
YOU SAVE 32p

100ml
£1.93
YOU SAVE £1.06

60ml
£2.39
YOU SAVE 60p
Wipes

30 wipes
£1.99
YOU SAVE 50p

200 large wipes
£6.85
YOU SAVE £2.14

10 sachets
£2.03
YOU SAVE 22p